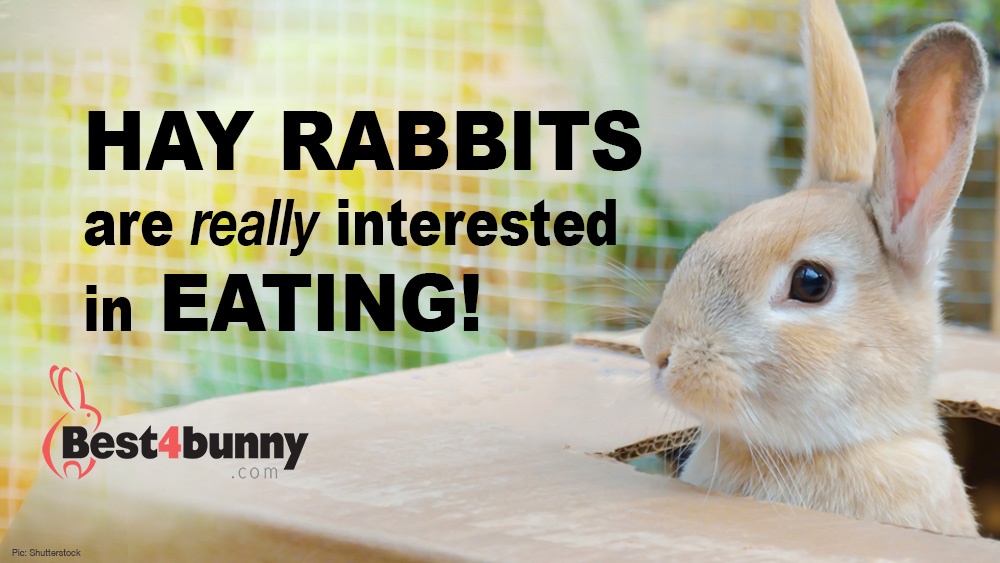 When it comes to buying hay for your bunnies it is so important to not only find hay that is premium quality, but it needs to be the right colour and smell amazing, too. 
Your bunnies will soon tell you if the quality of the hay is not right and there is nothing worse than buying hay that your bunnies refuse to eat it.  Not only will they be disappointed but you will be, too! 
The hay rabbits will be interested in eating should always be dust free and never should it smell damp or fusty. The more fragrant it is, the more palatable and delicious it will be.
Well, there was no sign of disappointment when our Best4bunny buns were treated to try and test some hay products from the Little Hay Co
We are happy to say they absolutely loved the hay. Even the picky bunnies got stuck in. We were also highly impressed with the quality of their hay and other products, too. Here's what we, or rather the buns tried and tested… 

Cotswold Sweet hay with added Dandelion and Rose.
Now this hay was a winner! 
It not only smelt amazing, it looked incredibly good quality. The colours were wonderful and the bunnies loved it. 
Mixed into their daily dosage of meadow hay, it really took their hay mix to another level making it very appealing indeed.
We, or rather our bunnies, would highly recommend this hay and the good news is it comes in different mixes. See below for more details.   
Classic Cotswold Sweet Hay is long in strand and green in colour, ideal for digestion and teeth maintenance 
Product qualities:
✓ Premium Quality
✓ Good for teeth maintenance
✓ High in Protein
✓ Green in colour
✓ Sweet & Fragrant for your pets
You can also order the Cotswold sweet hay with the following… 
✓ with added Chamomile
✓ with added Cornflower
✓ with added Coriander & Parsley
Click here to buy Cotswold Sweet hay

Timothy Hay
This Timothy Hay was the perfect texture. Some Timothy hays can be quite coarse, depending on the cut, which doesn't suit every bunny, but this one was just right for all our bunnies young and old. Beautiful green colour and smells so good. We have a thing about smelling hay and you should, too. It tells you so much about the quality of the hay. 
The Timothy Hay from the Little Hay Co is high in fibre and is a classic cut so it is long in the strand and has fuller rougher flowery heads, ideal for digestion and teeth maintenance in bunnies and other small furry friends. They cut their Pure Timothy hay once in a year, to ensure the best cut with the right blend of nutrients, roughage and flavour.
Product qualities:
✓ Premium quality
✓ Fuller, rougher flower head
✓ High in fibre
✓ Green in colour
✓ Fragrant and delicious for your pets
And not forgetting the all important bunny treats!
Our bunnies especially loved testing the following treats. What bunny wouldn't? 

Banana chips
These were a firm favourite and will now have to be a regular on our bunnies shopping list. All the buns loved them, even the bunnies that are not interested in a piece of fresh banana, which really surprised us. 
Again, the quality is wonderful and that is probably down to the care and attention that is put into making them. Made only with the freshest bananas, these chips make a perfect nutritious and tasty snack.
Click here to buy Banana Chips

Floral Foraging mix
This 50g bag of dried Chamomile, Rose petals and Cornflowers goes a long way. All you need is a small amount of the floral mix scattered over your bunny's hay each day.  A great way to add some foraging enrichment and encourage your bunny to eat more hay. Something every bunny parent should be a fan of doing. 
Click here to buy Floral Foraging Mix

Applewood sticks
These bags of mini apple sticks last a long time (much longer than the banana chips did!). They are great for placing one or two in your rabbit's home for them to nibble on or throw about depending on their mood. A great way to keep your bunnies busy and helping to keep their teeth healthy, too. 
Click here to buy Apple Sticks 
Here's what the Little Hay Co have to say about their hay.
We don't make your hay the traditional way. Our process is different and here's how… 
We mow the hay and ted it just like the traditional method. But instead of baling it in the field (open to the elements), we collect it loose within 24 hours of being cut and take it to our specially designed barn to finish the process under controlled, weather-proof conditions. Here it is much easier to achieve the magic 12% moisture content consistently. When we're sure it's ready, we take it out of the barn and bale it into the 1kg or 2kg packs to send to you.
The hay you receive is green, fragrant, nutritious, balanced in minerals, and free of harmful spores.  The perfect hay for your pets, year in – year out.
Visit their website to find out more about them and view all they have to offer your bunnies and other furry friends.
www.littlehayco.com
What a great idea!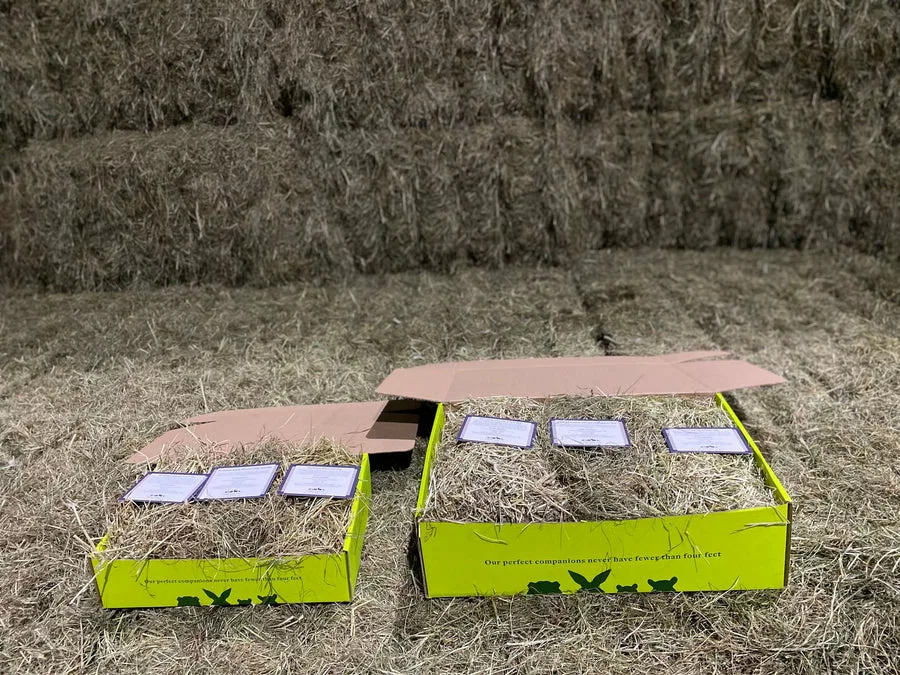 Why not start with one of their sample packs? A smaller way to sample their delicious Hays. 
Mixed Tasting Samples
A great way to find out which type of their delicious hays your furry friends prefer.
Cotswold Sweet Hay
Timothy Hay
Silky Soft Hay
Click here to buy Mixed Tasting Samples