< Back to Bunny Care
Observe your rabbit's behaviour closely everyday and you will be able to tell when your rabbit is not well. The earlier you spot any illness signs the better, as rabbits are prey animals and will hide their illnesses. Always check they are eating their food and hay every day. Always seek advice from your vet immediately if you are unsure what to do. Carrying out regular health checks will also keep your rabbit happy and healthy.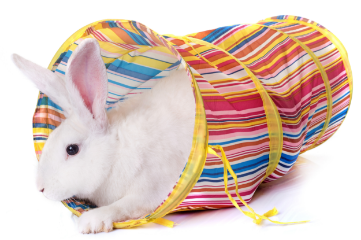 A box of around 18in by 18in by 12in is an ideal size for most rabbits except Flemish giants of course!
The double walled cardboard boxes are more sturdier and will last longer than single walled boxes.
Layering cardboard inside the box gives them more to play with and makes it last a bit longer. Cut out 2 door ways in the box to add a fun element to it.
Connect smaller cardboard boxes to the entrance of larger ones to make it more interesting and so they have 2 levels to jump around on.
Supermarkets will be happy to provide you with cardboard boxes. Some supermarkets stock their boxes at the end of the tills if you needed one to help with your shopping. Some garden centres also keep a large stock of cardboard boxes handy.
You can also buy cardboard boxes in bulk and they don't take up much room storage wise as they are flat packed.
Make sure they do not use staples in their boxes for obvious reasons.
Keep any tape out of chewing reach of your rabbit.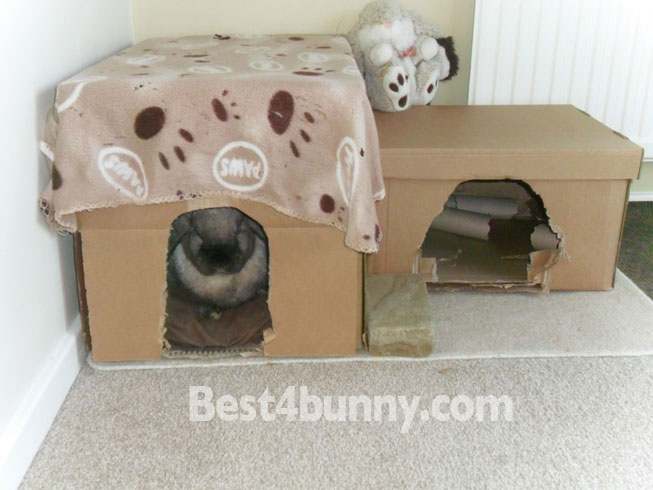 Cardboard toys for children can be just as much fun for your rabbit but check they don't use staples and check it's not coloured cardboard.
You could buy a mini corrugated cardboard roll for your rabbit to rip up and dig at. Place sheets inside cardboard boxes. Very cheap to buy. Or use cardboard tubes stuffed with treats and hay.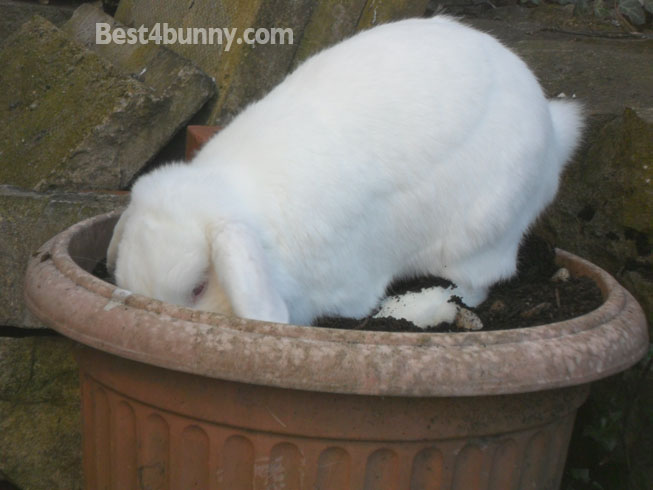 Below are just some items that can make ideal dig boxes:
Seed trays or drip trays
Flower pots
Washing up bowls
Plastic storage containers.
Fill with soil, child friendly sand or with grass turf and this will provide fun for your rabbit and also encourage natural behaviour as they will like to dig. You could add dandelion and herb seeds to the grass turf. (If they are undercover, remember to water them.)
Inside runs rather than using a tray you can use different types of edging to make a raised area and fill this with soil or grass turf. Use bricks, slabs, breeze blocks or railway sleeper type edging or various edging you buy from garden centres to edge flower beds.
There are lots of different ways, but remember you won't be able to move it around like you would if it was in a container and also if its wood, make sure it is rabbit friendly. If you use bricks etc, make sure they are safe and sturdy and that they can't topple over.
Indoor dig boxes can be filled with lots of bits of cardboard & paper torn up for them to dig through and throw about.
Flower pots
Plastic toy balls
Hard plastic dog/cat toys
Cardboard tubes
Jam jar lids
Tissue boxes (make sure their head cannot get stuck).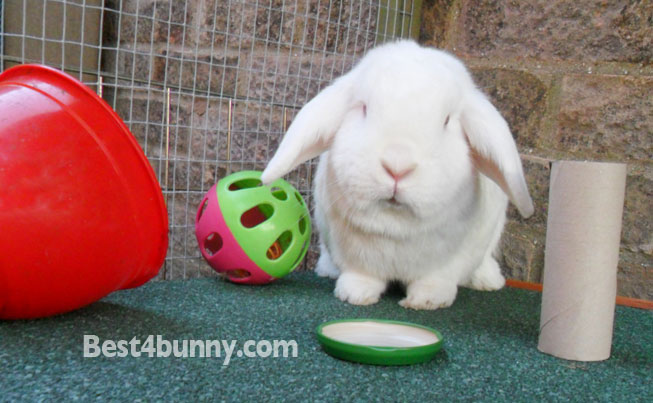 Use hay racks where they can pull at the hay as they enjoy pulling it out. Some items that make ideal hay racks are: hanging baskets and half moon wall planters, carrier bag holders or even rolled up tunnels of galvanised wire with hay stuffed in the middle. (Make sure there are no sharp edges left exposed). Make sure all gaps are stuffed with hay so they can't trap their feet or head in any gaps and that they are placed up high enough to stop them jumping into them.
Rabbits love to move about blankets and dig at them.
Things like cotton pillow cases with sample squares of carpet inside can be used as a bed and will also provide hours of entertainment as they like to scratch at the cotton and it is one of the more difficult materials for them to destroy.
Your rabbit will enjoy shredding this up and scratching at the pages. Place inside a cardboard box if you don't want too much mess made.
These make great toys and hideouts for rabbits.
Contact a local tree surgeon or landscape company or local gardener to let them know you would be interested in any off cuts they may have but make sure they come from trees that are safe to rabbits.
You can make a great hiding place out of large bits of tree branches. If they are sturdy enough you could attach a flat piece of ply wood on top of the branches so your rabbit can jump on top and crawl underneath amongst the branches.
Wicker baskets, tunnels and balls
Your rabbit will love demolishing anything that is wicker. Please note treated wicker can be toxic and should therefor never be given to your rabbit. It is extremely difficult to work out what is treated and what is untreated wicker. Your best and safest option is to buy wicker items that have been made especially for a rabbit to play with.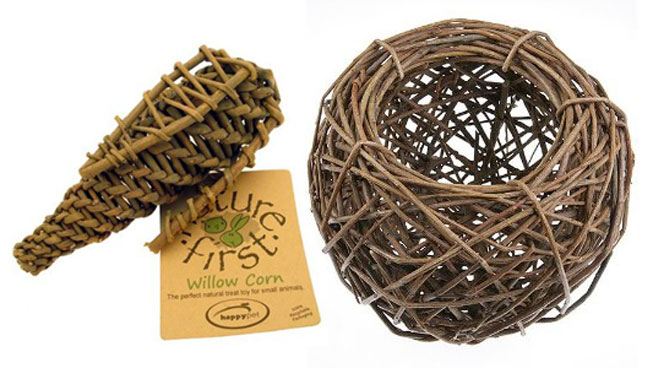 Place tiny bits of your rabbit's favourite treat or dried herbs amongst their hay on a daily basis so they have to work for their treats. Place treats in amongst hay and stuff this into small boxes and then make small holes in the box for them to chew and get at the treats. Egg boxes and cardboard tubes are good for this or paper bags can be used also.