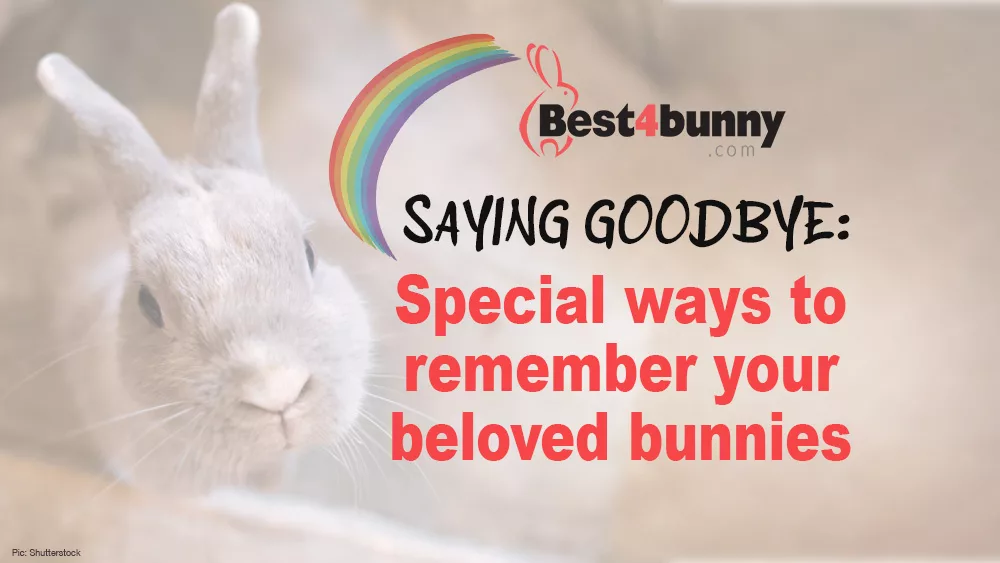 As bunny owners, we understand the bittersweet reality of their short lives. These delightful creatures fill our hearts with love and joy during their time with us. When a bunny crosses the rainbow bridge, it can be very challenging to cope with the loss.
However, their memory can live on through meaningful ways of honouring them. In this article, we will explore various ways to say goodbye and commemorate our departed bunnies. These ideas can be applied to any cherished pet.
Create a Bunny Memorial Garden
Channel your caregiving energy into a beautiful garden in honour of your bunny. Consider planting flowers or herbs in a spot that holds significance, such as where you buried your bunny or scattered their ashes. You can also plant your pet's favourite vegetables and herbs.
This living tribute will serve as a lasting reminder of the love and companionship your bunny brought into your life. It also allows you to spend time caring for something just as you spent time caring for your rabbit when they were alive.
Give to an Animal Charity
After the passing of your bunny, you might find yourself with unused funds or supplies that were put aside for their care. Consider donating a portion of these funds or your unused supplies to an animal charity or rescue organisation.
These organisations rely on financial support from the public for supplies and veterinary care. Let the charity know that your donation is in memory of your beloved bunny, ensuring their legacy lives on by helping other animals in need.
Volunteer at a Bunny Rescue
Honour your bunny's memory by donating your time and skills to a bunny rescue organisation. There are numerous ways to contribute, ranging from remote tasks such as creating content and fundraising materials, to hands-on work like transporting bunnies.
Reach out to local bunny rescue groups to inquire about their specific needs and how you can support their mission.
Preserve Memories in a Bunny Photo Album
Create a physical photo album dedicated to your departed bunny. Compile cherished pictures and mementos that capture special moments spent together.
Flipping through the pages of this personalised album will allow you to relive those precious memories in a tactile and intimate way. Arrange the photos chronologically, or group them thematically based on different aspects of your bunny's life.
Write a Letter to Your Bun
Writing a heartfelt letter to your departed bunny can be a therapeutic way to maintain the connection you shared. Express your feelings, reminisce about your time together, or update them on what has happened since their passing. This practice, commonly used for human loss, can provide solace when grieving the loss of a cherished pet.
Craft a Eulogy for Your Bunny
If writing a letter doesn't feel quite right, consider crafting a eulogy for your bunny. Imagine reading this heartfelt piece at a memorial service or graveside gathering.
Holding a funeral ceremony and sharing your eulogy can provide closure, especially when other members of your household or social circle also want to share their memories and pay tribute to your bunny.
Commission Custom Artwork
Enlist the talents of an artist to create a unique piece of artwork honouring your bunny. Share a favourite photograph of your bunny with the artist, and commission a custom painting or drawing.
This artwork can be a physical piece sent to you or a digital file that you can print and display in your home. Explore different art styles to find one that resonates with your bunny's personality.
Bury Their Beloved Items
For a more tangible way to bid farewell, consider burying some of your bunny's favourite items. Whether you choose to bury them alongside your bunny or in the area where their ashes were scattered, ensure that the items are biodegradable. This symbolic gesture allows you to let go while creating a lasting connection to your bunny's memory.
Create an Online Memorial
Join the growing trend of online memorials to commemorate your departed bunny. Establish a memorial page where you can share photos and stories of your bunny's life. Encourage visitors to contribute their own memories and express their condolences. Some online memorial platforms, such as Cake, even offer the option to host a memorial fundraiser in support of bunny-related causes.
Allow Yourself Time to Say Goodbye
It's essential to acknowledge the significance of dedicating time and space to say goodbye to your beloved bunny. Resist the pressure to move on quickly. Take the necessary time to process your emotions, reflect on the bond you shared, and find closure in your own way.
Saying goodbye to a cherished bunny is never easy, but by finding meaningful ways to honour their memory, we can find solace and preserve their legacy in our hearts.
Written by Sarah Kessler from JoinCake.com